Press for Hugh Jarvis Hitchcock

Gabe Berman of the Miami Herald says:

I caught [Hitchcock playing live in Hollywood FL] and my first reaction was, 'I can't believe I'm not paying $50 cover to see these guys... Hitchcock plays with the skill and speed of jazz great Chick Corea...!!

Graham Barclay of Soundwave FM in New Zealand:

Hi Hugh, Many Sincere Thanks for the CD" Funkmeister " that you sent us recently. BRILLIANT - EXCELLENT We have enjoyed it immensly, and have added tracks from it to our playlists. Your presentation of music, inside the style and personality reflected in the tracks is very refreshing. Keep it up. Many thanks again, and please stay in touch. Kind regards Graham J Barclay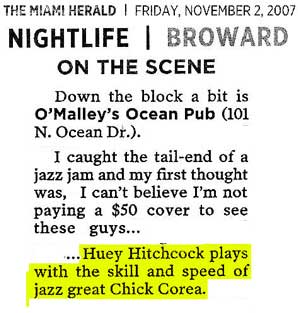 George Young from Country Club Radio in Australia:

Hi Hugh, We love the groove on this disc. Could be the most funky thing ever to come out of Memphis. It's all good. Cheers George Young

Paul van Kuik The Country Express Radio 0162 - Dongen The Netherlands

Hi Hugh, Loved your album. So did my listeners. Hope to hear more from your. Happy Holidays,

Pierre Gerard from Planete Indie in France

I have received the cd. I liked it a lot and have spinned it recently. You can check the playlists online at : www.pierregerard.be/planete

Fun & Funky!





This music is creative and complex, danceable and listenable!
Hugh Hitchcock has a hit!





This is fun dance music - just like funk is supposed to be. It grabs your body and shakes it. But listen to it,... over and over again, and new layers of music reveal themselves. This is hot !@$#!
Tremendous Creativity





This Cd has what has been lacking in the recording business for years, that is true creativity. This Cd is just saturated with creativity. Musically this Cd grows on you as you continue to listen because it not in the mold of your typical everyday common radio listening computerized business first production. It's from the heart of a stay true creator without pretense. Highly recommended, especially for the fans of Funk.
Hugh Hitchcock - The "DOCTOR" of Funk !!!!!!





WOW !!!!! This cd has it all. Funk, Jazz, Great vocal. Hugh is a true master of the keyboards. I can listen to this cd over and over. Every song has a unique beat. A refreshing mixture of some of the greatest influences in music. Hugh takes these different styles and blends them into his own funk/jazz fusion mix. Hope he's already working on his next cd. A true "MUST HAVE" for any music lovers collection.
Funkmeister - a great new fusion sound out of Miami





This album (Funkmeister) put a new sound in my ears. Elisa Sintiago's smooth vocals, Jesse Jones' wailing sax, and Hugh Hitchcock's all-around musical skill come together in a great and funky fusion of classic soul, inner city funk, and flashy Miami style. Songs like "Ur Makin Me Hi" and "I Want to Love You" make you want to cruise the city with the windows down and the volume way, way up. Kudos to Hugh J Hitchcock! I bought copies for my friends.
The guy's a genius!





I think my title pretty much says it all: The guy's a genius. His music's super and hard to get tired of. The other reviewer, Matt M., gets into the more technical musical aspects of Hugh's work. It just makes me want to dance.
Lush, Funky, Creative, Flawless





You know this album is going to be as funky as humanly possible the second you listen to the opening bars of the first tune, "Ur Makin Me Hi". The next thing that hits you is the subtle complexity of the lush arrangements and percussive instrumental mixes. Hugh Jarvis Hitchcock has assembled a cream of the crop group of musicians, including Elisa Sintjago on vocals and Jesse Jones, Jr. on saxophone, all of whom flawlessly execute his funky, creative vision. The album has a live, club-feel groove throughout. Hitchcock, in addition to being an incredible all around musician/composer, has demonstrated his masterful engineering grasp of layering tasteful, complex background arrangements, all of which complement Elisa Sintjago's buttery vocal stylings. The music simply can't be fully absorbed in one sitting. Each subsequent listening takes you deeper and deeper into the lush soundscape that is the signature trademark of this album. But "Funkmeister" is not just a listening album. It is most of all a groove-based outing that invites the listener to get up and move with the groove. George W. Bush even makes a starring vocal appearance on "Make No Mistake", a tune that demonstrates Hitchcock's incredible creative imagination. It's certainly the only time I've ever felt like dancing to a George W. Bush speech! All in all, "Funkmeister" is a 5 star album performed by the some of the finest musicians on the planet. Buy it and you won't be disappointed.
Great Pop, Funk, Electronica music





Hugh Jarvis Hitchcock and his debut CD, "Funkmeister" is an album that spans fluently across many genres. At some moments it's urban and jazzy, other times it's 80's music with some world beat flare. Female vocals, keyboards, and a drum machine make for some smooth, catchy, and fun songs. The album is best represented by the track, "Out of Control," as it has a fast paced world drum beat, jazzy saxophone, and a funky bass line that really moves. The stand out single is "All I Know" as this song offers a slower moving beat with soft and sweet vocals. "Funkmeister" will surprise you at every turn, from its ever-changing genre, to samples of George W. Bush speeches and is definitely a great album to hear if you're looking for a variety of music with vibrant rhythms